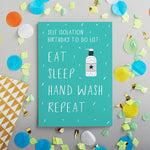 This is my second blog post in a week, that must be a record! I have been busy with week with some accounting, designing, fulfilling online orders and liaising with some of my lovely customers. The majority of my business has come to a halt due to Covid-19 but I am certainly working hard in the background, trying to make the most of the situation as well as letting it inspire me creatively.
All of the cards below are available to purchase on my Etsy shop as well as my Thortful profile. Both of these platforms ship orders worldwide, so you can reach your loved ones both near and far! I have had some fun creating these designs. If you're not able to leave the house at the moment or buy a stamp – I can send your card to the recipient at no extra cost when purchasing on my Etsy shop. Simply fill in the message box when you add the item to your basket and I will hand write your chosen greeting.  Thortful offer this service as well!
I have 15% off orders over £30 during April 2020. This discount will be applied at the checkout.
Click the images below to head to my Etsy or used the words in bold above to go to my respective stores too 🙂
Wishing you all a peaceful weekend.