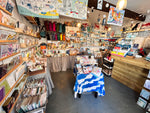 I am writing this whilst sat in our Robin Hood's Bay shop on a fairly chilly Friday. I haven't spent a huge amount of time down here in the past few months due to being tied up running other parts of this business. There are changes happening over the coming weeks and I am excited to be down here much more regularly going forward, starting with the next 4 days! Opening a shop here in July 2020 was a dream come true for me and I can't wait to spend more time in it, chatting to customers old and new.
Having grown up in Bay, I have worked in many of the local businesses over the years and having our own feels like the perfect next chapter. Now the season is getting going we will be open every day and for up to date news check out the shop website.
We have built our product offering around my locally inspired cards, prints and homewares and are gradually adding a wider collection of products with a local focus from fabulous companies such as I Drew This and Oldfield Design Co. Stop by for greetings cards, socks, wax melts, keyring, coasters, coastal homewares, soaps, beautiful cushions, a range of both statement and understated sterling silver jewellery, bags, water bottles and more!