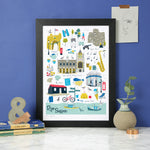 I am delighted to have collaborated with my lovely stockists Simply Rye to create a design that reflects their town of Rye in Sussex. I am yet to visit but after looking at so many lovely images whilst creating this design I hope to be able to make the trip down there soon! I developed one main design and then we have been able to take out various elements from that to put on products such as magnets, postcards and coasters. 
I have also added a couple of new local designs recently which are available on my Etsy shop and in our Jessica Hogarth Shop in Robin Hood's Bay! 
Last but not least I worked on a private commission for a couple. Get in touch via the contact form if you're interested in discussing your own unique piece of art.