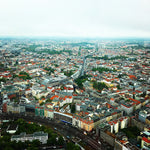 I visited Berlin earlier this month for a bit of sightseeing with my boyfriend. This is the third time I have visited the German capital, but the first time I have had chance to properly wander the city. We had two nights and three days there, but would have happily spent another day or two as there is so much to see and do!
Berlin feels pretty big, so we bought daily travel cards and used a lot of public transport to navigate the city. We stayed right near Hauptbahnhof station which was really convenient for getting around. The weather was pretty poor when we first arrived, so after ducking in to a few shops, we emerged from TK Maxx with umbrellas and then headed to the Berlin Fernsehturm (TV Tower) for lunch. On a clear day, the views from the observation deck and restaurant are spectacular. We had partial views due to fog, but the longer we stayed up there, the clearer the sky got! You can just visit the observation deck, but we opted to pre-book a window table for lunch in the restaurant that rotates, giving you a 360 degree view of the city as you dine. Once the sky cleared a bit, colourful houses were revealed.
Berlin certainly did not disappoint on the food front. We headed to Markethalle Neun for food on Thursday evening – which is the night for a once weekly gourmet food market. I left full of fresh pasta, cookies and ice cream, and would definitely recommend a visit to anyone in the city on a Thursday! We then went to Mano Cafe, a cosy independent bar nearby. Time your visit right and you might be able to take control of the private little seating area accessed via a step ladder, allowing you to look down across the bar.
Another food highlight for me was brunch at Kauf Dich Gluklich. I first had their cheeseboard back in 2017 when I visited for new year, and I knew that I needed to have it again at some point! For approx 9 euros you get a plate full of cheese, avocado, pineapple and olives, accompanied by delicious bread. I would also recommend Father Carpenter which is located in Berlin's Mitte district. I had a delicious vegan banana bread with whipped peanut butter and a chia and raspberry jam. Yum!
As animal lovers my boyfriend and I spent a very enjoyable afternoon at the Berlin Zoo – which is the largest and oldest zoo in Germany! There is also an Aquarium on site, which can be visited if separate tickets are bought and there are insect and reptile houses too.
I had read about Monkey Bar at the Top of the 25Hours hotel so after seeing all of the animals on the ground, we sat with a drink in hand in this tenth floor bar, looking down in to the Monkey houses at the zoo.
We did lots of walking during our stay, stopping by landmarks such as the Brandenburg Gate and Reichstag building, as well as the East Side Gallery
We flew home from Tegel airport, which is closer to the city than Schönefeld is (the airport I've used previously), and we got a bus there using our travel cards, making it super easy. I hope you have a wonderful time if you're planning a visit to Berlin in the future!